REVISITED AFTER 40 YEARS

— by Sheila McCann,
3d Field Hospital, Saigon, 1967-1968
After forty years I returned to Vietnam, a country in which I spent a year, seeing only Saigon! By chance I met a Marine Vietnam Veteran at last year's (2008) Memorial Day Service at Fort Sam Houston National Cemetery. After repeating my often-said comment, "I have no desire to go back to Vietnam," I began to think about it and shortly after called Vietnam Battlefield Tours for more information. I was hooked, signing up for the March 2009 tour.
A small group of fourteen including three Marine Vietnam Vet guides left Los Angeles International Airport on a flight to Hanoi via Taipei. Almost twenty-four hours later we landed in Hanoi.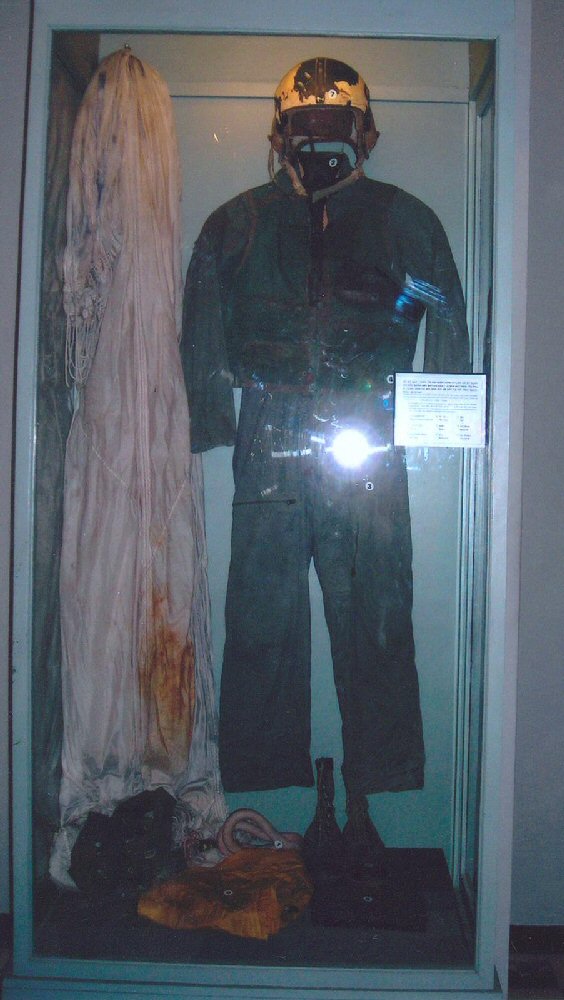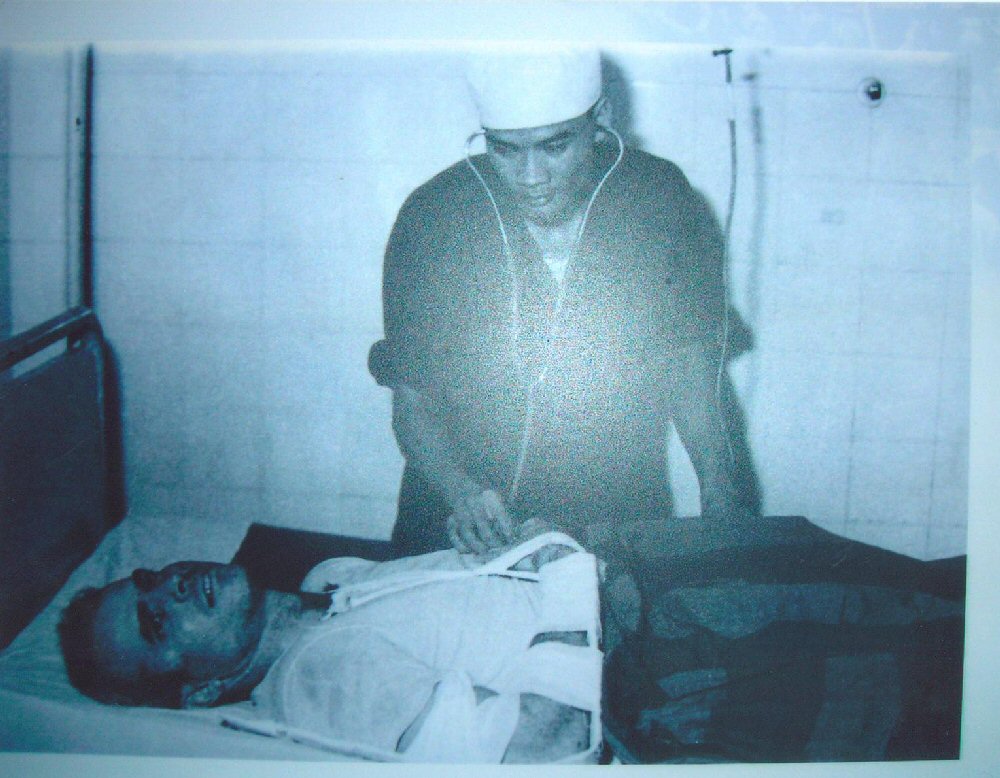 I must admit I had an uncomfortable feeling as we waited for our luggage. We hit the ground running, stopping on the way to the hotel at the Hoa Lo Prison, better known to us as the Hanoi Hilton. This prison, built by the French around 1900, is now a museum. Our Senator John McCain, probably the best known former inmate, was well represented in my opinion. Posed pictures of him being treated by an NVA Army Doctor, his flight suit, and his 2000 return visit were highly visible. I found myself very depressed the entire time I was there, remembering the sight of the torture rooms and knowing how often those brave U.S. military men were victims of their captures in that prison. The present day prison is well kept and has lovely gardens and artifacts. These failed to lift my depressed feelings.
I must add that after leaving Hanoi early the next morning for Hue I never felt depressed again. I was being introduced to the "new Vietnam."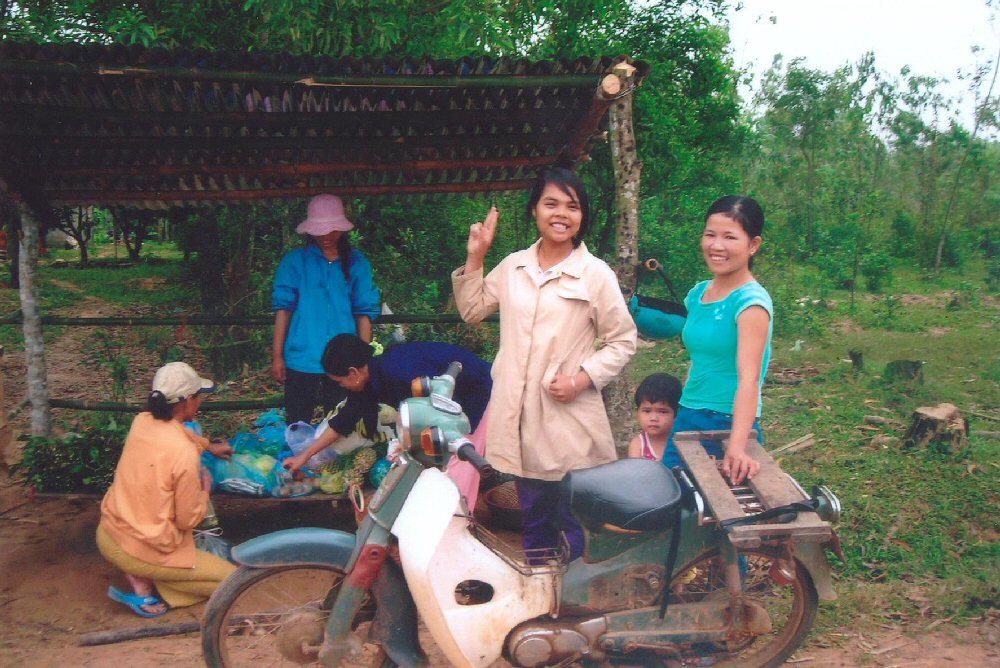 What a beautiful country! What friendly and smiling natives! The only other "unusuaI incident" occurred a few days later when about eight of us who did not go on a six-hour mountain climb were detained by a local policeman for being in an unauthorized area. We were escorted to his police substation where our Vietnam tour guide proved to him he was ill informed about our authorized visit to a former Special Forces Site.
It was good to have the last laugh! Hue was a beautiful and rebuilt city. We spent several hours at the Citadel and exploring the Imperial City, site of the biggest battle of the 1968 Tet Offensive.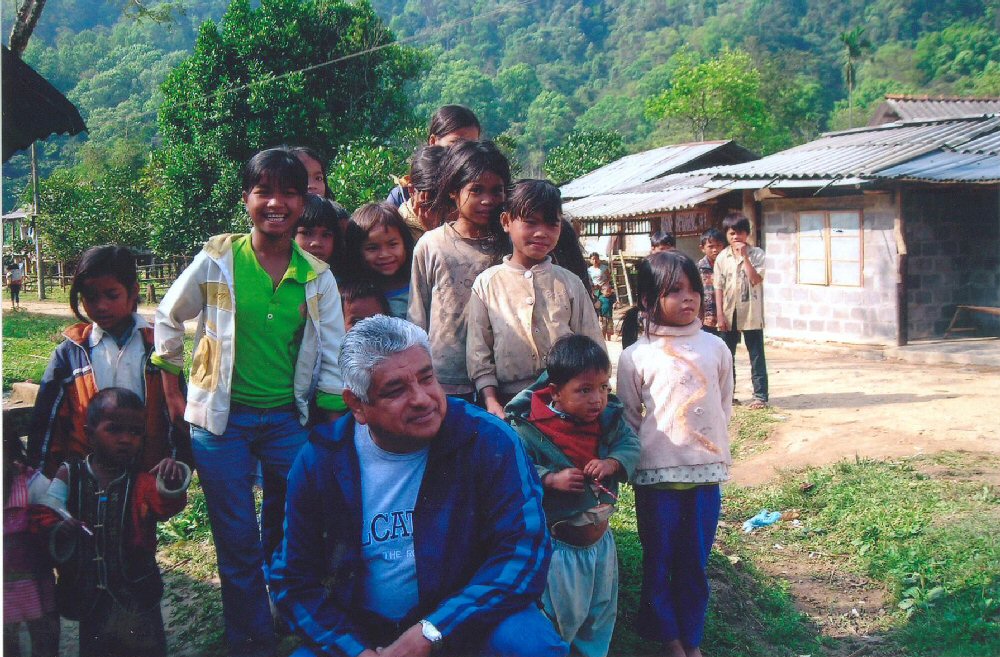 We spent the next three days in the countryside visiting the Vinh Moc Tunnels and walking abandoned flight lines and battlefields. U.S. bases have no remaining buildings in the country side. We stopped at Lao Bao village, surrounded on three sides by the country of Laos. On our way back to the overnight in our resort hotel, Huong Giang, in Hue, we visited Bloody ridge, Hamburger Hill and the beautiful A Shau Valley. Leaving at noon, after our first free time morning, we sightsee on our way to DaNang. Awaiting us was another Five-star riverside 12-story hotel, the Green Plaza. The Green Plaza had a great Spa, where I enjoyed a massage twice in my one and a half day stay there before I and my Marine Vietnam Vet guide left the group for a short flight to Saigon.
You would not believe Tan Son Nuit! The landing fields are the same, but I found myself looking for the tanks and U.S. military armed guards along the outside perimeters.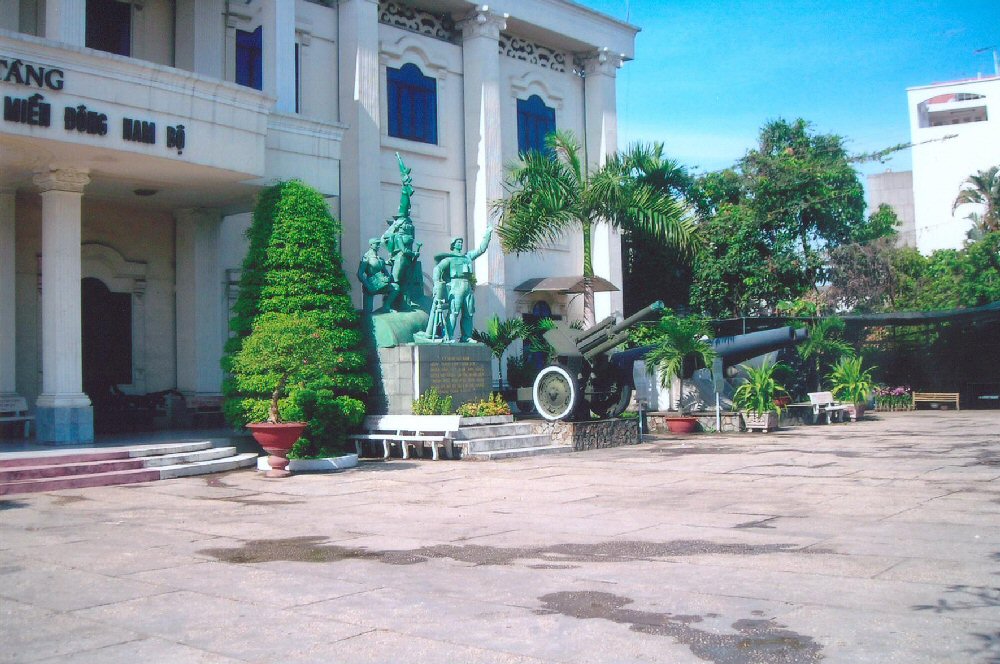 But that was forty years ago, in June 1968.
On the way into town our local Vietnamese guide tried to find the 3rd Field Hospital unsuccessfully, but Gene told me not to worry, he would get on his laptop and find the location. The next morning at breakfast he told me our first stop on our way to the Cu Chi Tunnels was the 3d Field. Everything there looked different ... the street was rerouted, the chopper pad across the street was a beautiful park and many buildings had been rebuilt for the Ho Chi Minh museum.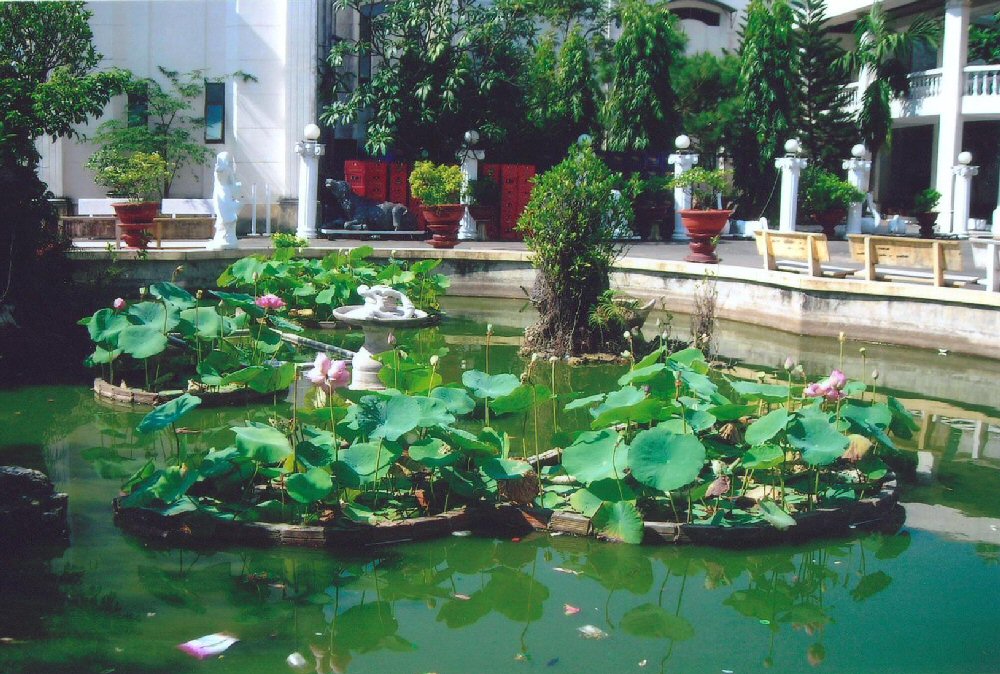 I spent very little time in the museum. I could not wait to get outside to reorient myself. First, I found my ward building; my second floor ward was being used as a storage area for building supplies for remodeling and new buildings. I was permitted to again climb the outside stairway and at least look in the windows. I then walked around the smaller compound and saw the beautiful, large water pond with a large fountain with blooming Lotus flowers. My thoughts that day focused mostly on the nurses and medics I had worked with, and not my former patients. I was saddened by thoughts of those few best friends who have died in the last twenty years.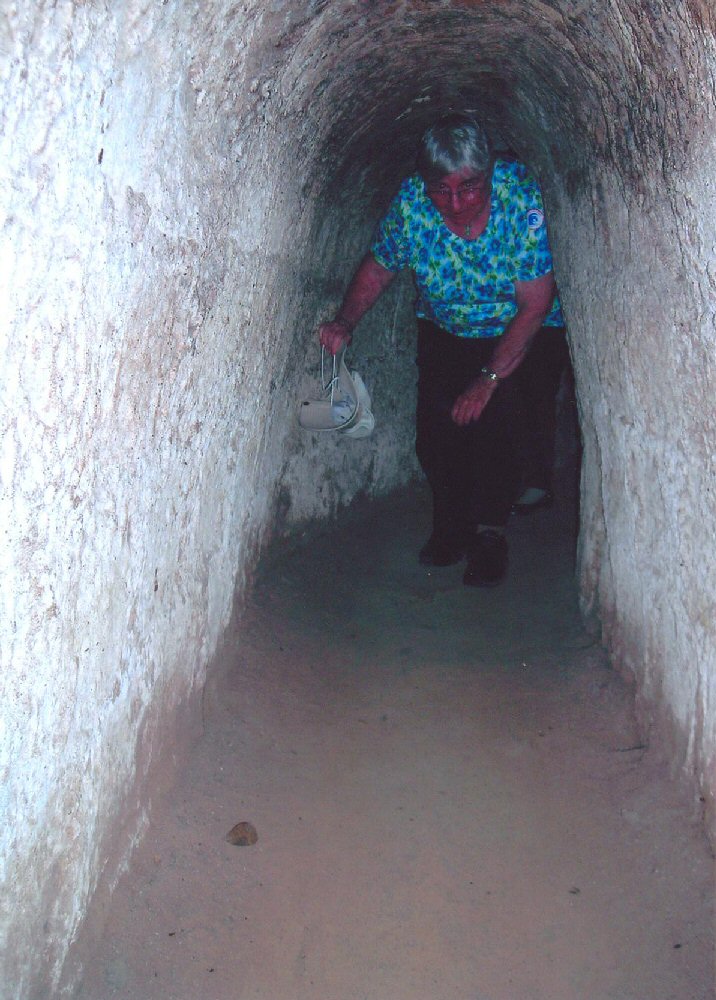 Yes, I did go in the Cu Chi tunnels but only about 80 yards until I could surface again. I was able to walk, but bent almost double. I had hit the top of my head entering the tunnel so with my hand for protection I avoided any more lumps! The next day, Gene and I, with our Vietnamese guide and chauffeured car went south to My Tho in the Mekong Delta.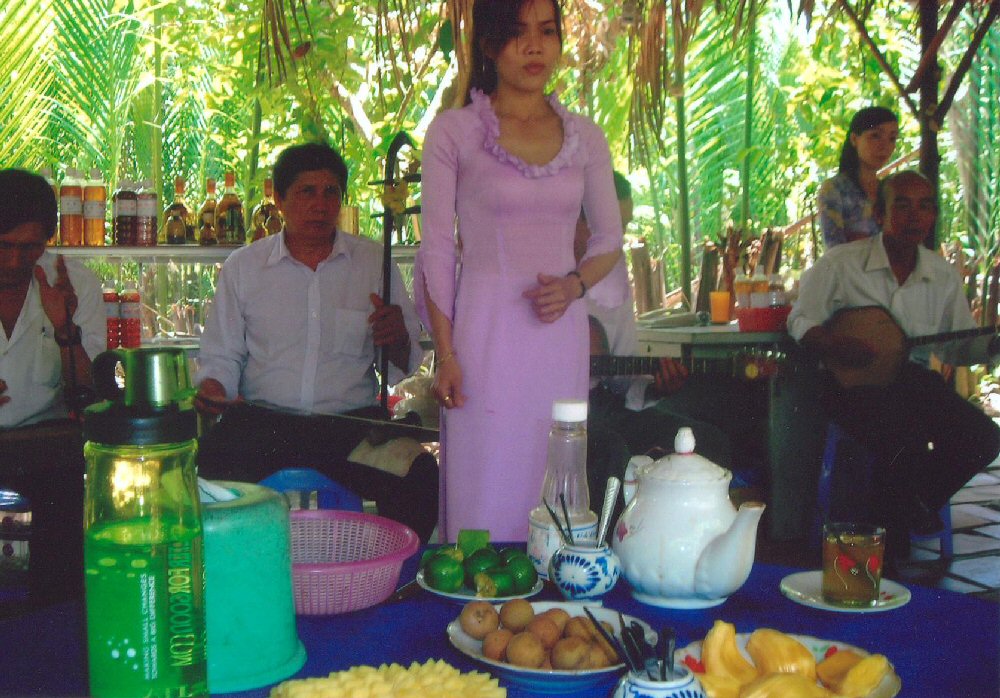 We had our own boat and spent several hours exploring the islands, changing to a smaller rowboat to explore the VC-travelled inlets.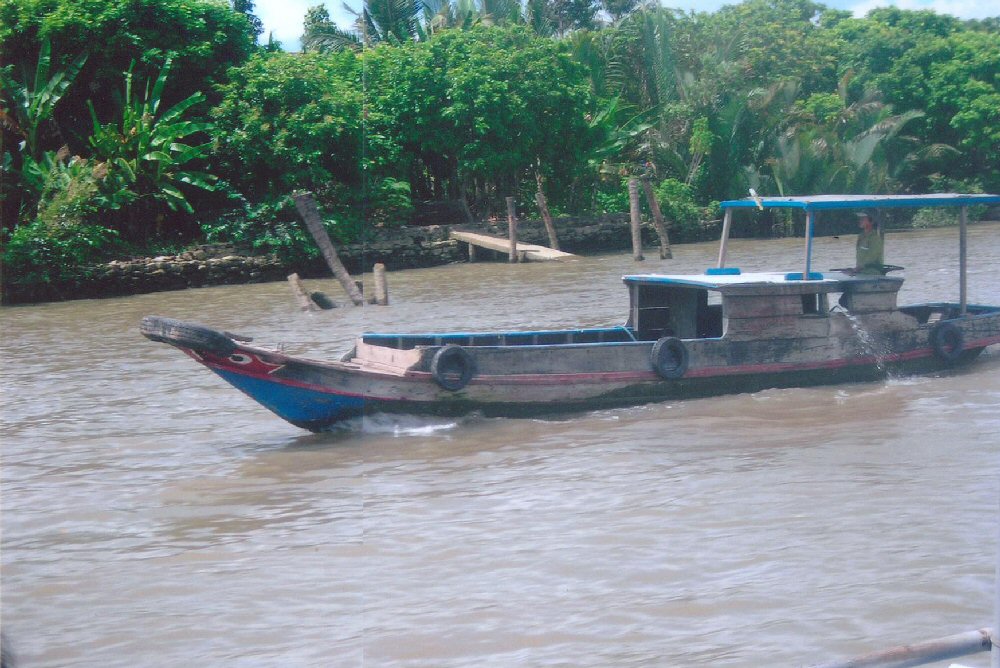 We had lunch on an island in an outdoor restaurant with entertainment: two singers and a four piece band! On our return in the late afternoon Gene and I went on a walking and shopping tour. I was glad I had help carrying my shopping back to the hotel. In the morning, before pick-up for the airport at 1000 Hrs, we raced back to buy things I should have bought the previous evening.
This well-organized tour was outstanding. All breakfasts were buffets featuring Vietnamese and western food. Several had omelet bars. The dinners were all in restaurants outside of the hotels and were outstanding. Drinks were not included however; beer, cokes, and bottled water were all about $1 or 15,000 dong. Our gang included another Army guy, one Sailor, one Seabee and five Marines. There was one vet's wife and the three Marine Vet guides. . THIS WAS A WONDERFUL EXPERIENCE AND I AM SERIOUSLY CONSIDERING RETURNING IN 2010.
(NOTE: And although she didn't make it until 2011, she did go back again!)
---
Additional photos:

Prisoner's "bed" at Hoa Lo prison

Countryside Village

Sheila and other veteran at the Citadel

China Beach

Smiling Children

Sheila with Emperor