A RETURN TO VIETNAM

— by Susan Backs, 24th Evacuation Hospital, Long Binh, 1970-1971 with
Brooke Serpe-Ingold (5th Field Hospital, Bangkok, Thailand 1969-1971)
Susan (Lodge) Backs and Brooke Serpe-Ingold were among 12 persons (ten veterans, two non-veterans) who travelled to Vietnam and Cambodia 12-27 September 2010 with the Vietnam Battlefield Tour group. Two of the veterans were the tour guides. Our journey began in Ha Noi where we were guests of the US Marine Security guards at the Marine House near the US Embassy. We had the opportunity to visit some points of interest: the "Ha Noi Hilton" and the John McCain marker on the bank of the city`s lake where he was shot down and captured (incidentally, the information on the marker noted "USAF", not USN!).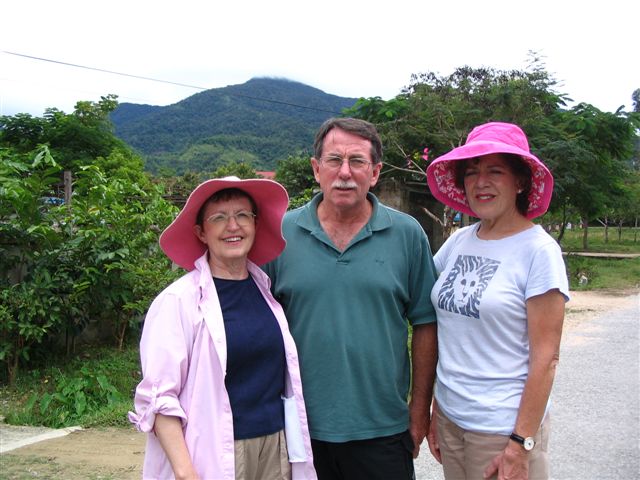 We then flew to Hue - Phu Bai airport to begin exploring battle sites/bases in I-Corps and Special Forces areas: LZ Stud/Vandergrift, A Luoi, Tiger mountain, Da Krong, Khe Sanh, Co Roc mountain, Lang Vei SF camp, Lao Bao (Laotian border), Dong Ha mountain and bridge, Camp Carroll, Cam Lo, Con Thien, the DMZ-Vinh Moc tunnels in North Vietnam, Cua Viet, My Loc, Hai Van pass, Da Nang, Monkey mountain (95th Evac was at the base of mountain), Hoi An, Ngok Tavak SF Camp, Quang Tin (location during Operation Swift in November `67 where Navy Chaplain Fr. Robert Capodanno was killed and received the Medal of Honor posthumously), Chu Lai (where we saw the small clinic funded by Sharon Lane foundation), Quang Ngai.
We continued down the Ho Chi Minh trail along the coast to Qui Nhon (main road there is the former US airstrip) and walked to the site where the 85th Evac had been from 1965-1969. Our travels in the mini bus enabled us to see a great deal of the northern and central highlands, thus allowing us to visit Montagnard villages and major battle sites.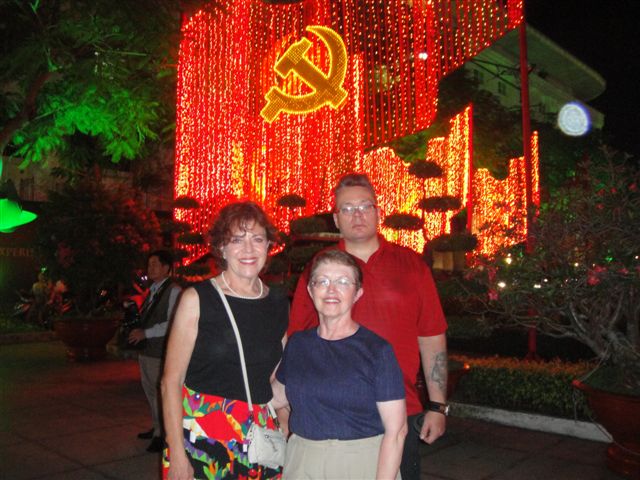 Flying out of Phu Cat airport (approximately one hour from Qui Nhon) (seeing lots of Russian MIG`s on the airstrip), we arrived in Saigon (Ho Chi Minh City), and found the site of the 24th Evac where Susan had been stationed July 70-July 71 (no sign of a hospital) and the 3rd Field Hospital, now a military museum. We then toured this very cosmopolitan/capitalistic, lively city – so different from the austerity evident in Ha Noi and areas north of the former DMZ – visiting many well-known landmark buildings and ending our day with a great dinner at the Rex Hotel!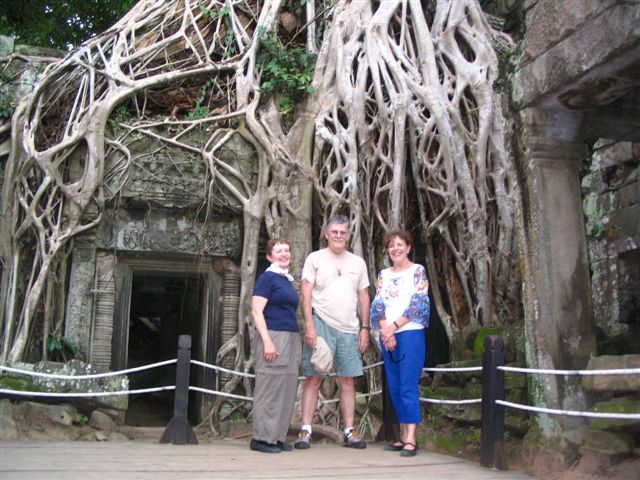 The next morning Susan, Brooke, and Bob Burke – our tour guide /USMC Vietnam veteran – flew about an hour away to Siem Reap, Cambodia (an optional part of trip; the others went back to CONUS). Our three days in Cambodia were highlighted by visiting the spectacular temples (wats) in Angkor; elephant rides; a wild ride on the Tonle Sap Lake,largest lake in Southeast Asia, fed by the Mekong river; visiting an orphanage; visiting donated water wells (our tour guide finds sponsors); and visiting memorials to the victims of the genocide (over 2 million Cambodians) perpetrated by the Khmer Rouge and Viet Cong. The Cambodian food was our favorite, including the French-influenced baguettes and pastries!
Vietnam Battle Field Tours is a non-profit corporation founded and led by Vietnam veterans. We highly recommend this tour group for returning veterans; in fact, we are planning another trip with them, this time to the Philippines, in January 2012.
---
Additional photos:

With hostesses in HaNoi

At the Rex Hotel in Ho Chi Minh City (Saigon)

Brooke & Susan at Banteay Samre Temple (Citadel of Women)

Susan, Bob Burke & Brooke at Gate of Angkor Thom